Sciatica Treatment Specialist in Plano, TX
Sciatica affects approximately 40% of Americans at some point in their lives. With proper treatment, most cases can be completely cured. Sciatica treatment is available at NorthStar Joint and Spine by triple board-certified Dr. Robert Nocerini MD. For more information, contact us today or schedule an appointment online. We are conveniently located at 7704 San Jacinto Pl Suite #200 Plano, TX 75024.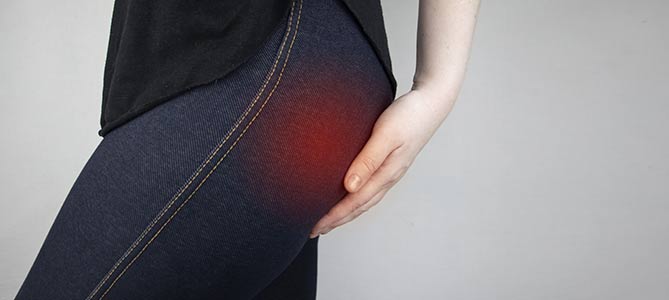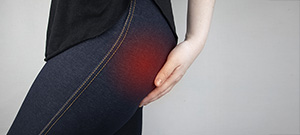 Table of Contents:
What is sciatica?
What are the symptoms of sciatica pain?
What are the causes of sciatica?
What treatment options are available at Northstar Joint and Spine for sciatica?
What is sciatica?


As the name implies, sciatica refers to pain along the course of the sciatic nerve. Each leg is supplied with sciatic nerves from the lower back, through the hips, buttocks, and down each leg.
 
In most cases, sciatica is caused by a herniated disk or an overgrowth of bone pressing on the nerve. Affected legs often experience inflammation, pain, and numbness as a result.
 
Even though sciatica can cause severe pain, it usually disappears within a few weeks with the right treatment. Surgery may be necessary in cases of severe sciatica, leg weakness, or bowel or bladder changes.
What are the symptoms of sciatica pain?


There is almost no place along the nerve pathway that is immune to sciatica pain. There is a high probability that it will follow a path from the low back to the buttock and the back of the thigh and calf.
 
Pain associated with sciatica can range from a mild ache in some cases to a sharp, burning sensation in others. In some instances, it can feel like an electric shock or jolt. Coughing, sneezing, or sitting for a long time can make it worse. In most cases, sciatica affects only one side of the body.
 
People may also experience numbness, tingling, or muscle weakness in their legs or feet. You can feel pain in one part of the leg while feeling numb in another.
 
Over time, mild sciatica usually disappears. Symptoms that persist after self-care measures are taken should be discussed with your primary care provider. In case of severe pain that lasts longer than a week, or if the pain gets worse, call your doctor. If you experience sudden, severe pain in your back or leg, numbness or muscle weakness in your leg, trouble controlling your bowels or bladder, or pain after an accident, seek medical attention immediately.
 
It is not uncommon for sciatica patients to fully recover from the condition. A complication of sciatica can be chronic pain (ongoing and lasting). Chronic muscle weakness, such as a "drop foot," can occur if the pinched nerve is severely injured and the leg becomes numb. As a result of sciatica, feelings may be lost in the affected legs for the rest of their lives. Feel free to contact your provider if you lose feeling in your legs or feet or if you have any concerns during your recovery.
What are the causes of sciatica?


It's estimated that 40% of people in the U.S. will experience symptoms of sciatica at some point during their lifetime. The third most common reason for visiting a healthcare provider is back pain. Sciatica is a condition caused by pinched sciatic nerves. In most cases, the spine is affected by a herniated disk or bone spurs, which are overgrowths of bone on the spinal bones. Nerves can also be compressed by tumors more rarely. Nerves can also be damaged by diseases such as diabetes.
 
Sciatica is commonly caused by age-related changes in the spine, such as herniated disks and bone spurs. The spine is more stressed when you are overweight. Working with heavy loads, twisting the back, or driving a car for a long time may cause sciatica. The likelihood of developing sciatica is higher for people who sit and don't move much than for those who are active. Nerve damage is more likely to occur in people with diabetes, which affects how the body uses blood sugar.
What treatment options are available at Northstar Joint and Spine for sciatica?


Pain reduction and mobility enhancement are the goals of treatment. Many cases of sciatica can be treated with simple self-care methods over time, depending on their cause.
 
There is no one-size-fits-all when it comes to sciatic pain. Depending on the type of pain, the intensity of the pain, and the cause, the pain may differ. It may be necessary, to begin with aggressive treatment in some cases. It's best to see your healthcare provider if ice, heat, stretching, and over-the-counter medicines haven't provided relief following a six-week trial of conservative, self-care treatments.
 
Treatment options that may be considered include medication, injections, physical therapy, alternative therapy, and surgery in some cases.
 
Sciatica treatment is available at NorthStar Joint and Spine. We look forward to serving you! We serve patients from Plano TX, McKinney TX, Richardson TX, Frisco TX, Allen TX, Addison TX, Carrollton TX, and BEYOND!