Spine Clinic in Plano, TX
Dr. Robert Nocerini MD at Northstar Joint and Spine provides a comprehensive approach to the care and management of spine injuries and conditions such as spinal stenosis, herniated discs, vertebral fractures, degenerative disc disease, and many others.

Contact us

today for more information or schedule an

appointment online

. We are conveniently located at 7704 San Jacinto Pl Suite #200 Plano, TX 75024.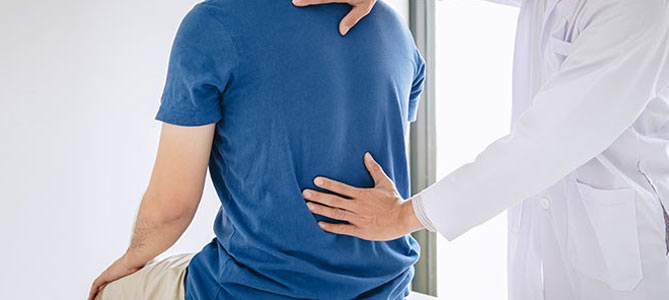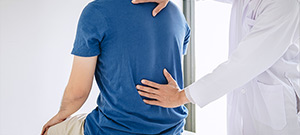 Table of Contents:
What is a spinal clinic?
How do you know if you have a spinal problem?
What is the most common spine problem?
How do you know if spinal pain is serious?
As your spinal cord makes up part of your central nervous system, any injury or condition that impacts your spine should be taken seriously. At Northstar Joint and Spine, we will do exactly that by providing innovative and effective treatment options that reduce your reliance on pain medication and your chances of needing surgery. To learn more about spinal clinics and what they can do for spinal pain, keep reading below!
What is a spinal clinic?


A spinal clinic is a healthcare facility that specializes in the treatment, diagnosis, prevention, and management of disorders that affect the spinal cord and column and the tissues surrounding them. That said, there can be different kinds of spinal clinics. For instance, one clinic may specialize in spinal conditions that require surgical intervention, while other spinal clinics may focus their efforts on treating spinal conditions in ways that eliminate or reduce the patient's need for surgery.

Likewise, you may find different specialists at one spinal clinic than you would at another one. At a spinal clinic specializing in the surgical intervention of spinal disorders, you'll likely see neurosurgeons or orthopedic surgeons for your specific spinal disorder. Spinal clinics that specialize in reducing a patient's need for surgery likely specialize in pain management. Physicians in these clinics may include anesthesiologists, neurologists, or physiatrists — doctors specializing in physical medicine and rehabilitation.

At Northstar Joint and Spine, our spinal clinic focuses on reducing your need for surgery. As such, we specialize in pain management. Our primary physician is board-certified in anesthesiology and emergency medicine and is ideally qualified to take expert care of any spinal disorder you are dealing with.
How do you know if you have a spinal problem?


To know if you have a spinal problem, it's important to know the symptoms of spinal problems present. Spinal problems can cause numerous symptoms, including:

• Continuous pain in your neck or back
• Radiating pain from your lower back down one or both legs
• Numbness or weakness in your extremities
• Decreased agility in your hands and fingers
• Misalignment in your spine, such as a shoulder that is higher than the other
• Issues with bowel or bladder function

The symptoms you experience with spinal problems vary depending on the location of the problem, the tissues affected, and the problem's severity.

The spine is divided into three primary areas called your cervical, thoracic, and lumbar spine. Your cervical spine is located around your neck and upper back, the thoracic spine comprises your mid-back, and your lumbar spine is located near your lower back and tailbone. The symptoms you experience with a spinal problem will vary depending on whether they impact your cervical, thoracic, or lumbar spine.

Likewise, spinal problems may affect your nerves, muscles, soft tissues, or bones. You may experience different symptoms depending on which tissues are affected. Moreover, mild spinal problems will present different symptoms than severe spinal problems.
What is the most common spine problem?


The most common spinal problem is likely wear and tear in the spine due to arthritis as you age. That said, there are many conditions that occur with wear and tear in the spine. As such, there are several highly common spinal problems, especially among older adults. Some of these spinal problems include:

• Degenerative disc disease
• Lumber herniated disc
• Sciatica
• Spinal stenosis
• Scoliosis
• Osteoporosis
How do you know if spinal pain is serious?


Spinal pain can range widely in severity. Thus, the criteria for serious spinal pain are also broad. For example, spinal pain may be considered serious if it is chronic, causes debilitating pain, or exhibits signs of a medical emergency. Chronic back pain is generally any back pain that lasts longer than three months despite treatment interventions. Debilitating back pain is any pain that significantly interferes with your ability to perform routine, day-to-day tasks and is often chronic.

If your back pain is considered a medical emergency, it may be due to a life-threatening injury or condition, or it may have life-altering effects. Some signs that your back pain is a medical emergency include:

• Extreme pain
• Paralysis in any part of your body beneath the injury or affected area
• Total loss of sensation in your extremities
• Complete loss of bladder or bowel control
• Impaired breathing
• Twisted neck or back

If you're dealing with a spinal problem, we can likely help at Northstar Joint and Spine! Our pain management physicians will help with your spinal problem by reducing your pain, reliance on pain medication, and need for surgery. We welcome you to learn more about our services or schedule an appointment with our pain management specialist through our website or by calling us. We serve patients from Plano TX, McKinney TX, Richardson TX, Frisco TX, Allen TX, Addison TX, Carrollton TX, and BEYOND!